Once you've decided to choose one of the magicians for hire in St. Louis for your party, wedding or corporate event, the next step is to decide which metro-area magician is the best fit. Here are five tips to help you pick the best entertainer for your needs.
Know What Kind of St. Louis Magic Show You Want
The better idea you have about what you want before you contact a professional magician, the easier it will be to find the right one. Some magic shows focus on comedy, some are more serious, some are designed for kids' parties and some acts work best when a strolling magician mingles with a large crowd performing tricks and dazzling your guests a few at a time.
This type of strolling magic is usually a poor fit for kids' parties, just as a stage magic show might not work well in a crowded, noisy restaurant or bar that would require a large group of people to focus for an extended period of time. Good St. Louis magicians can tell you if the kind of show you want isn't a great idea for the event you have planned.
Because many magicians specialize, your desired act might not be a great fit for them, either. As part of the St. Louis area magic community, I'm confident that if you contact me or any other local magician and we're unable to perform at your event, we can happily refer you to someone who specializes in the type of magic you're looking for.
Know Your Budget for Hiring a St. Louis Magician
No one wants to overpay, but choosing the least expensive performer based on price alone can be a mistake. If you purchase a cheap item at a store, it can be taken back and exchanged for something better if it doesn't work as advertised. Your event, however, doesn't get a do-over. Once the performance is over, your guests will have been entertained or not, and even a full refund of what you paid can't undo the disappointment that would result from a poor magic show.
Choosing the wrong magician, whether for a performance in St. Louis, Alton, Jerseyville, Edwardsville, or any surrounding areas, can keep your wedding, party or event from being all it could be.
Magicians are entertainers, and most of us have a base price for appearances with tiers for longer or more involved performances. There are usually options that can fit into most people's budgets, within reason, but the old adage that "you get what you pay for" is as accurate when it comes to magicians for hire in the St. Louis area as it is for anything else.
Get Details about the Magic Show
This holds true for anyone you might hire for an event like caterers, bands or DJs, bakeries or venues. Be sure your magician confirms with you all important details like the date, when the magician will arrive, when the performance will start and stop, payment details and terms, and any other information that can help both you and the performer understand the scope of what's expected.
Payment terms such as deposit, terms for final payment, contracts and other information are important, but things like what you expect from the magician the performance are equally vital. Be sure you both have a good understanding of expectations so you won't stress about any details that he already has covered.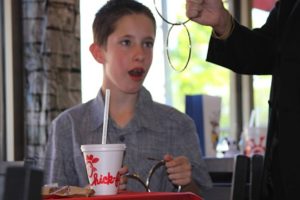 Look at the Magician's Testimonials and Past Performances
A few different metrics can help you decide which St. Louis magic act to choose. First, is there a list of past clients and performances on their individual website and at least a few testimonials from satisfied customers? Unless a magician is just starting out, you should easily be able to see a little bit of the performer's history. Well known clients and venues are a great sign that your magician has the necessary experience.
Second, again unless the performer is new to magic, a couple of testimonials will show that your magician is capable of pleasing the people who've hired him. There's nothing wrong with taking a chance on a new magician who may not have any big past clients or testimonials, but there are opportunities for new magicians that aren't as one-of-a kind as your wedding, party or corporate event.
Finally, Google it. If you're considering hiring a magician in St. Louis, do a quick search to check out their social media and any mentions in media or articles they may be part of from interviews or past appearances. Some magicians have YouTube videos online, as well. Not every magician films their performances, particularly when specializing in strolling magic in crowded venues where it's difficult to get good shots and audio, but one or two short videos can help demonstrate a magician's skill.
Watch the Magician in Action
This might not always be possible, but check to see if the magician you're interested in has any performances coming up. You may be able to go to a restaurant, nightclub or charity event to see them live and get a better sense of how they might be able to entertain your guests. And if you meet a close-up magician in person, don't be surprised if they demonstrate a few tricks to how off their skills!
Professional St. Louis magicians love their craft and want you to be happy with their performance, so don't hesitate to discuss what you're looking for. You'll get great feedback and suggestions about how to make your event special.
I'm St. Louis magician Gregory Green, and I'm always happy to talk with you about performing at your party, wedding, corporate event or your venue. Please contact me at